Legacy Elementary's Chess Club Teaching Students Lifelong Skills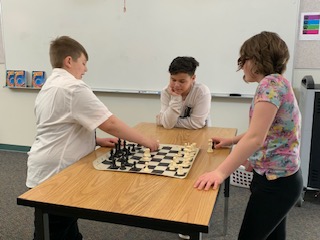 To students at Legacy Elementary School, chess is more than a game, it's an opportunity to learn and practice life skills like problem solving, patience, strategic thinking, and planning.
The Chess Club at Legacy Elementary has been running since 2009. "It's been so successful for so long because children love learning new things," shared Kristin Pierce, fifth grader teacher. Students have helped make it successful throughout the years, "when they return the following year, and spread the word about how much they enjoy the club, that makes more kids want to join," shares Pierce.
Many elementary students don't consider chess a typical game because they don't get many chances to play with kids their own age, but Chess Club gives them an opportunity to play against their peers. "It is a really fun way to interact with people that you don't often talk to or see very much. This lets you get to know people better and it also lets you improve and learn new strategies," shares Brennen Gibeault, fifth grader at Legacy Elementary.
The Chess Club contributes to the growth of students by teaching them how to become critical thinkers. "In the game of chess, you not only need to think through your moves, but you also need to consider how your opponent may move based on the move that you make," shares Pierce. Problem solving skills, strategy, and critical thinking are required to be able to outplay an opponent during a chess match.
After teaching students how to play the game, Ms. Pierce structures the class into a chess tournament, with the winner being awarded a chance to play Dr. Corey, Legacy Elementary Principal. "Having a principal that will invest their time in a chess match draws interest and makes this a unique club for our kids." Currently there are eight students participating from grades third through fifth, and Ms. Pierce plans on adding a beginner chess club for students in the primary grades.
"Chess teaches you how to be a good winner and a good loser," shared Gibeault. "When you win it helps with self confidence and this helps you when you are doing other school activities like presentations, and it also helps you socialize with other people."